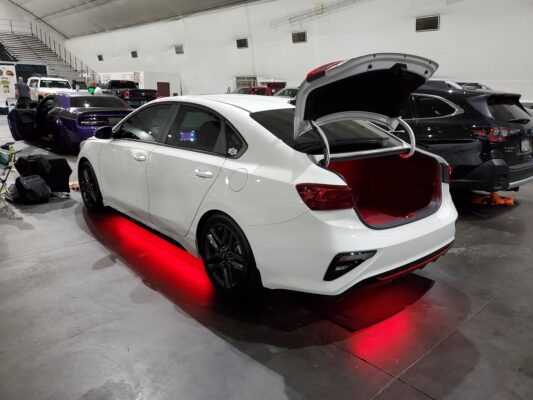 Vehicle:
2020 KIA Forte GT-Line
                         AUDIO SYSTEM
 Audio Realignment Technologies – (1) 2XS mat for the JL HD750/1 subwoofer amplifier and (2) 2XS mats for the JL VX800/8i amplifier (1) underneath the amp and (1) on top of the amp
Head Unit – Pioneer DMH-WT76NEX head unit – full wireless music streaming through Apple CarPlay using Apple Music Lossless and/or Tidal lossless
Front Stage Speakers – JL Audio C7 3-way components – 6 ½ midbass in doors, 3 ½ midrange and 1 tweeter on "A" pillars
Subwoofers – (3) JL Audio 8W3v3-4 in separate sealed chambers for each woofer – sound deadening inside each chamber
Front Stage Amplifier/DSP – JL Audio VX800/8i – midbass bridged for (4) channels, tweeter and midrange on their own channels – utilizing the JL Audio TUN software to dial in system – subwoofer amp using line out on amp
Subwoofer Amplifier – JL Audio HD750/1
Speaker Wires – AudioQuest Red River Series for all front stage speakers
"I had the opportunity to test-drive these mats at the 2021 Steel Valley Regional competition. Shortly after placing them on the amplifiers, I could hear a noticeable difference in the audio sound in my vehicle. Everything was crisper and more detailed. I took some time after the competition to do my own research on the process Dennis explained. I consulted faculty who specialize in electromagnetic engineering. The final consensus was that the mats are the real deal. Any time electricity is introduced to a metal surface it creates an electromagnetic field. This field dampens the ability of speaker wires from sending their true potential – detailed and accurate sound signals.
After consulting with my installation team at Custom Audio in Erie, PA, we decided to give the mats a full go and install into the current system. I am in constant awe of how much more detail I'm hearing in the vehicle. Drums are snappier. Transitions are smoother. Overall, this is a great investment into my current system. I cannot wait to fine tune it more and blow people away on the competition circuit. Well done, Dennis, well done!"